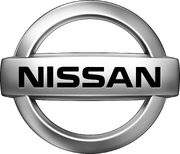 The Nissan Motor Company Ltd. or simply Nissan is a Japanese automobile manufacturer founded in 1933 and based in the Nishi-ku prefecture of Yokoyama, Japan. Today, it is the fourth largest car company in the world behind Toyota, Volkswagon and GM.
The car company is best known for making the Z series sports car, the Leaf electric car, and the GT-R; a popular turbo V6 sports car that has the power and speed of a V8 model.
Nissan was the major sponsor of the Tomica Hero Series, with many of its vehicles being modified into Core and Dash Vehicles that Rescue Force and Rescue Fire would use to pilot their Rescue Vehicles and aid civilians or for Final Rescues to destroy Fire Demons.
In addition to this, there are bits of product placement for Nissan's vehicle technology in Rescue Fire:
VVEL: The mecha GaiaLeon was powered by a large fictional VVEL (Variable Valve Event and Lift) engine, a technology developed by Nissan that became part of their vehicles in late 2007. The real engine in Nissan cars was developed to improve airflow to the cylinders for faster response as well as balance and optimize environmental efficiency with performance.
Safety Shield: In Rescue Fire, this is a powerful energy shield used by X-Dragon and the Rescue Dashes to protect their drivers or as a battering ram. In reality, the Safety Shield is the name of a smart safety system that includes features such as emergency automatic braking,lane departure warning for sleepy drivers, and sensors for detecting any surrounding objects to prevent collisions.
External Links
Ad blocker interference detected!
Wikia is a free-to-use site that makes money from advertising. We have a modified experience for viewers using ad blockers

Wikia is not accessible if you've made further modifications. Remove the custom ad blocker rule(s) and the page will load as expected.