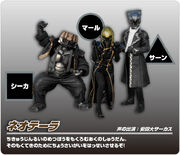 The Three Great Executives are a trio of villains who are the commanding generals of Neo Terror.
Character History
Marre
San
Sica
Arsenal
Notes
Portrayal
Behind the Scenes
The Three Great Executives have character traits based off of the Doronbo Gang from the Time Bokan anime series Yatterman:

Marre is the female who leads the group. Like Doronjo, she is quick tempered and lets her subordinates do most of the work.
San is the genius of the group, like Tonzura, and activates most of the devices by pushing a button.
Sica is the muscle of the group and not very smart, like Boyacky.
References
Ad blocker interference detected!
Wikia is a free-to-use site that makes money from advertising. We have a modified experience for viewers using ad blockers

Wikia is not accessible if you've made further modifications. Remove the custom ad blocker rule(s) and the page will load as expected.